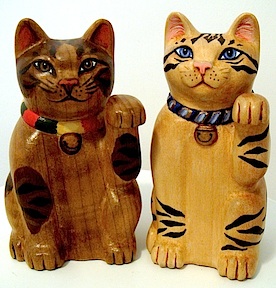 Click on image for more info

NEW ITEM!
Hand Painted Hand Carved
Solid Wooden
Maneki Neko Lucky Cats
Limited Edition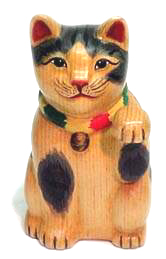 TYBER KATZ © 2000-2011
HandCarved WOODEN Maneki Neko
Limited Edition of 50 ~ 5 3/4" Tall x 3"Wide
Carved from solid pine and handpainted.No two are exactly alike.The wood gives this unique lucky cat a very warm and beautiful glow.
A wonderful addition to any Maneki Neko Collection .Signed & Dated by the artists.
SOLD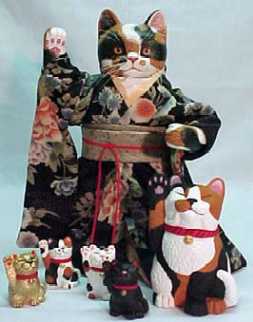 "Meiko" © 2000-2006
Limited Edition of 50
Handcarved Handpainted Lindenwood
Head and Paws. Eleven and 1/2 " Tall.
Completely Poseable. Signed Dated and
numbered by the artists. Dressed in Kimono
with silk slip & obi .Real Whiskers.



SOLD OUT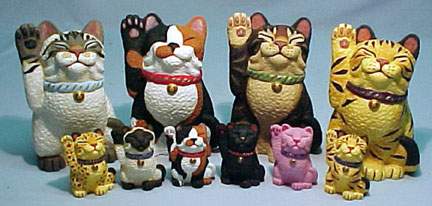 TYBER KATZ
HANDPAINTED CAST STONE
MANEKI NEKOS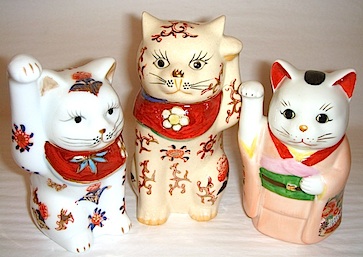 Your Choice! Mint Porcelain Maneki Nekos

SOLD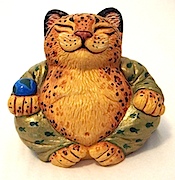 Rare! Handpainted Leopard
Lucky Buddha Cat
4 1/2" Tall
List:$79.99

SOLD

What is Maneki Neko?
"The Cat of Goutoku Temple"

Around 1650, in the Setagaya ward of Tokyo, there was a temple called Goutoku, which was very poor.
The monk who took care of the place, lived there with his beloved cat. One day he told it, "I wish you could
return the favor for my having taken care of you so well." A few days later, the wealthy samurai
Naotaka Ii, Lord of Hikone Castle, and his hunting party ventured into the temple's compound.
He told the monk, "We were walking by when a cat at the front gate beckoned us in with its paw.
May we rest here?" Soon after that, a fierce storm came but Ii and his party were spared from it.
While waiting for the storm to pass, the warrior became impressed with the monk's nobleness and the
cat's spiritual attitude, and decided to be the temple's patron, thus rescuing it from poverty.
Years later, when the cat had died, the monk buried it within the compound. In memorial to his beloved
lost pet, he constructed a stone replica of it. Afterward, rumors spread throughout the surrounding
community that prayers made to the image, actually came true.
Thus, the traditional belief of the maneki neko began.
OUR FAVORITE MANEKI NEKO LINKS:

***MY MANEKI-NEKO LUCKY CAT PAGE***
Donald Moon's Quintessential Collection of Maneki-Nekos & Info & Links!

ACTION CAT - POSTCARDS AND MORE
Unique manekineko graphics plus lots of other cat-related goodies.

ASIAN IMPORT STORE
Offers a line of quality import items from Asia.

JAPANESE GIFTS
Great Japanese Site for Maneki Nekos

JUN JAPANESE GIFTS & SOUVENIRS
Japanese and other Oriental goods, including Maneki-Nekos.

MANEKINEKOCOLLECTORS
A Yahoo-based email group devoted to sharing manekineko-collecting information.
New members welcome!

MRS. LIN'S KITCHEN
Asian kitchenware, products, & gifts (including lucky cats).

***NEW ENGLAND BONSAI GARDENS***
The largest bonsai nursery in New England. Bonsai and garden specialists who
also happen to offer manekinekos for sale. The Nicest Folks!

OLD JAPAN
Specialists in affordable Japanese antiques, vintage silk kimonos, and Japanese
gift items. Here be lucky cats.

RACHEL ROSE
Great Maneki Neko Paintings & More

Moore Mews Publishing